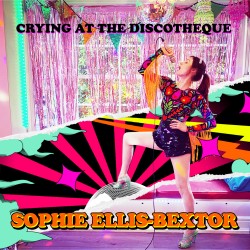 SOPHIE ELLIS-BEXTOR ANNOUNCES NEW SINGLE 'CRYING AT THE DISCOTHEQUE' – added straight to BBC2 A-list!
NEW ALBUM 'SONGS FROM THE KITCHEN DISCO: SOPHIE ELLIS-BEXTOR'S GREATEST HITS' RELEASED ON 13th NOVEMBER
Following her much-loved Instagram Live Kitchen Discos during the Covid-19 lockdown, Sophie Ellis-Bextor has announced the release of one of the most popular songs from her virtual live set, with her version of the classic disco hit Crying at the Discotheque.
Taken from her upcoming new album Songs from the Kitchen Disco: Sophie Ellis Bextor's Greatest Hits, Sophie has covered Alcazar's 1990's hit for a sparkling studio 54 take on the original in classic Sophie disco style. She says;
"I'm really excited to be putting out 'Crying at the Discotheque'. I used to sing it sometimes when I was doing a club set, as I always loved the song, and since I sang it during the kitchen discos it forever holds a special place in my heart. I love this version – such a great song and full of the imagery of the discos I always go to in my head when I'm singing."
Sophie's recent kitchen disco sets, filmed live from her home with her family amidst a mixture of loveable fun and chaos, were a means of virtual escapism for many and became weekly moments of united sequined catharsis for the hundreds of thousands tuning in. Last month she announced she would be bringing her virtual disco to the present with a Kitchen Disco Tour next year, with all the frivolity of her original show on live stages across the country.
Ahead of the live dates, Sophie will release her new greatest hits album on 13th November, which will be a collection of the songs that sound-tracked her lockdown kitchen disco. The album will feature all of Sophie's biggest and best-known disco hits in one place for the first time ever! Available on various colourful and collectable formats (CD, Double Vinyl LP and Tape) the album will include 6 Top 10 hits, including Murder On The Dancefloor and Take Me Home, plus the brand new lead single Crying at the Discotheque.
Tack till Playground Music för nformationen.